---
Detailed HOA roof inspections for your peace of mind
619 Roofing offers comprehensive HOA roof inspections to homeowners and coordinators across San Diego, Riverside, and Orange County. Annual inspections will ensure the roof is in proper condition, free from any structural issues that can turn into major problems. We will dispatch a trained expert to inspect the roof on your HOA and design the best plan for resolving the potential issues they could uncover. From there, they will propose different reasonably-priced solutions for bringing your roof back to its former condition.
---
Expert HOA re-roofs, partial replacements & lifts and relays
Our team provides extensive HOA re-roofs and partial replacements across Orange County, San Diego, Riverside, and other neighboring communities. We offer a wide range of available materials to suit your style, preferences, requirements, and budget. We have a seamless approach to handling both partial and complete roof replacements, lifts, and relays that ensures maximum quality and swift turnaround. We'll make your property weather-tight and ensure maximum safety by installing delineators, protective barriers, and tarps.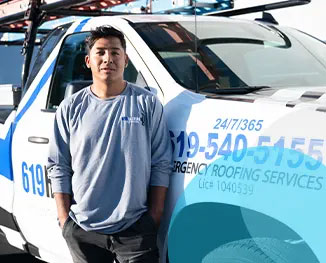 ---
We'll design a custom maintenance plan for your particular needs
Preventive maintenance plan for your HOA roofing is an inexpensive way to ensure your property is structurally sound and without potential leaks and other common roofing concerns. We design individual custom plans for each Homeowners Association that fits your properties, needs, and requirements. Professional and regular maintenance actions prevent serious structural problems from forming and significantly extend your roof's serviceable life. At 619 Roofing, we want to see your roof in great condition for as long as possible.
---
Why choose our recognized company?
Long track record of success. We boast a long and successful track record of satisfied customers and we are ready to continue tackling various challenges.
Expertise and efficiency. We have the experience and the knowledge to quickly and expertly resolve any problem with the roof on your HOA.
Long-lasting roofing solutions. We outfit HOA owners with durable, sturdy, and dependable roofing solutions that will withstand all the elements.
Dedicated team of roofers. We have assembled a team of top roofing contractors capable of performing a variety of tasks with precision and care.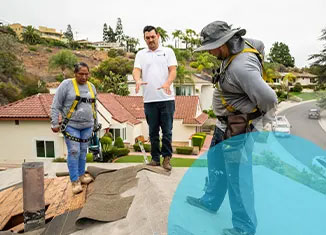 ---
Rely on our 24-hour emergency HOA roof repair service
619 Rofings is here to perform emergency HOA roof repairs across San Diego, Riverside, and Orange County. Our staff is available 24/7 and ready to answer your calls in person. From there, they will closely listen to your concerns and provide prompt response in case of severe emergency. When on-site, they will perform a quick emergency assessment, design personalized solutions, and ensure your property is safe. In case of leaks, we can deliver emergency tarping service as quickly as possible. Reach out to us today!
---
You can count on us to repair, clean, and replace your gutters
We recommend professional HOA gutter cleaning once a year to preserve their structural integrity and function. Our expert technicians will perform a detailed inspection to determine the best course of action before proceeding to clean your gutters as part of our HOA roofing maintenance procedure. Besides cleaning, we provide a comprehensive list of services that ensure the gutters on your HOA remain in top condition year-round, including:
HOA gutter installation
HOA gutter maintenance
Gutter system repair
Gutter spikes/leaf cover installation and replacement
We will also position your downspouts to ensure water flows away from your HOA structure and into the draining system. Contact 619 Roofing to service your gutters and avoid common problems, such as excess water around the foundation slab, slab cracks, water evaporation into the structure, wet floors suitable for termite infestations, and leaky windows. We will make sure your gutters are in excellent condition and grant you complete peace of mind.
---
Who are the most reputable HOA roofing contractors in San Diego, Riverside, and Orange County?
---
We have a portfolio of successful roofing jobs