---
Comprehensive residential roof inspections & maintenance
Ensuring that your roof is in excellent condition is crucial for maintaining thermal comfort, increasing your energy savings, and increasing the value of your property. First, our experienced residential roofing contractors will thoroughly inspect your property and correctly identify potential issues. They will create a detailed report and suggest possible solutions.
We then proceed with the necessary repairs or maintenance that will deal with all the detected problems in an efficient and effective manner. Our professional residential roofing services are reasonably-priced, transparent, and swift for your maximum convenience and satisfaction.
---
Expert roof repair & replacement in San Diego, Riverside, & Orange County
619 Roofing roofing contractors handle extensive residential roof repairs and detail-oriented roof replacements in San Diego, Orange County, and Riverside County. Our qualified contractors will determine the extent of the damage and formulate a clear plan for repairs while staying within your budget and schedule. We can take care of flat and tile roof leaks, structural, storm or wind damage, shingle repairs, and other issues on different types of roof systems.
Additionally, we are also here to completely tear off your old roof and replace it with a new one in case the damage is too severe for repairs. Our 40 years of combined experience has granted us the know-how to provide a durable and long-lasting roof for your home.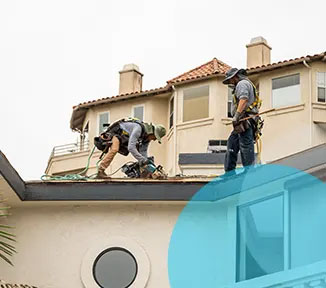 ---
Contact us for high-quality residential gutter installation
Our team is well-versed in professional gutter installation. Your gutters and downspouts are what protects your home from damaging water accumulation that can wreak havoc on your walls and siding. If left untreated, improperly functioning gutters can lead to serious issues, such as water pooling, wall saturation, cracked foundations, and mold build-up.
619 Roofing is here to carefully inspect your gutters, determine the extent of damage, and perform advanced gutter installation using durable materials and cutting-edge tools and equipment. We will replace your aging gutters and ensure your home is safe.
---
What to expect from our licensed residential roofing contractors in San Diego, Riverside & Orange County
Our roofing specialists are licensed, highly trained and utterly dedicated to providing you with services that meet the highest standards
Exceptional customer experience and outstanding client care are some of our core values.
We boast a range of services, including roof maintenance, tear-off, repair, and re-roofing, so we can meet your needs.
We offer different financing options so you can invest in this essential home improvement without any financial worries.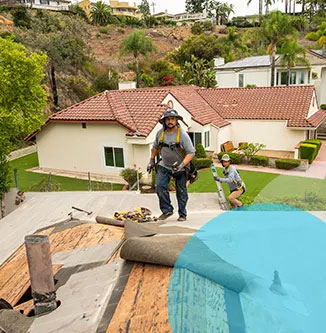 ---
Turn to us for expert residential roof replacement & installation services
619 Roofing is here to install a new roof in case you notice any of the telltale signs of excessive damage. Most common signs include water damage, trails, leaks, mold growth, rotting, blistering, and cracked tiles. If you notice any of these, we are here to offer a variety of roofing options, including shingle shingle, tile, single-ply, asphalt shingle, and TPO roofing.
As the leading roof replacement and installation contractor in the area, we foster a company culture of excellence that focuses on prompt response, customer satisfaction, expertise, and dedication. Protect your home from severe structural damage by reacting quickly and contacting us to replace your old and install a new roof.
---
Count on our roofing contractors in San Diego, Riverside, & Orange County
---
Explore what we've done in the past