As any real estate agent will tell you, getting a quality roof is one of the best investments a homeowner can make. Not only does it yield the highest return on investment of all house improvements, it also safeguards the other parts of your property and significantly increases the likelihood of getting a quick sale for your home. 
However, as with other exterior parts of your home, constant exposure to the elements will eventually cause your roof to become damaged in some way. When this day comes, you'll need to give re-roofing contractors in San Diego a call and choose between replacing the roof or having it re-roofed. 
But what exactly is the difference between roof replacement and re-roofing? How do you know which one of these two types of roof restoration is right for you? We'll be answering these questions in the following article. Read on to learn more. 
What are the crucial differences between re-roofing and roof replacement?
First, it's important to point out that roof damage should be taken very seriously. Even just a few missing or broken shingles can easily lead to leaks or insulation problems that cause further damages to your property or unnecessarily increase your energy bills. 
For this reason, you should have your roof examined by registered professionals as soon as you notice any damages. 
Re-roofing
This process involves laying a new shingle overlay over your old, worn shingles. In doing so, you create an additional protective layer to prevent leaks and make your roof look good as new. Re-roofing can only be done once, as having more than two layers of shingles is prohibited by law. 
The pros of re-roofing are:
It's cheaper and faster than roof replacement

It doesn't require as much preparation on your part
The cons of re-roofing are:
It can't be done more than once on a single roof

It's not the ideal option for metal roofs

It doesn't address deck-related problems such as sagging or rot
Roof replacement
As its name suggests, roof replacement involves completely removing the old shingles. Once the deck is exposed, an underlayment is applied to it, and the new layer of shingles is installed on top of this underlayment. Depending on the condition of the deck, this process may or may not include deck repairs. 
The pros of roof replacement are:
It's more durable than re-roofing (new shingles last for two decades or more)

There's no limit to how many times it can be done on a single property

It uncovers and fixes any deck-related issues
The cons of roof replacement are:
It's more expensive and time-consuming than re-roofing
Should I replace my roof or re-roof it?
It depends. Re-roofing is a great option for homeowners whose roof is nearing the end of its life, but is still in an overall good condition (eg., it has no major leaks, water damage, missing shingles, mildew or mold growths, etc.). 
Roof replacement is better in the long-term, but due to increased costs it may not always be a financially-sound choice. When in doubt, it's best to ask for a recommendation from a reputable roofing company in San Diego. 
Where can I find the finest re-roofing contractors in San Diego?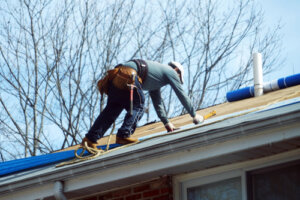 Is the roof at your Rolando property showing signs of age? Or perhaps you've discovered water damage in your attic and you want to have your roof checked for leaks? Whatever your roof-related needs may be, you can't go wrong by giving 619 Roofing a call.
With years of industry presence, access to state-of-the-art equipment, and a long list of happy customers, we are ideally positioned to provide you with the full range of residential and commercial roofing services. Contact us today.