It's impossible to exaggerate the importance of a good, dependable roof. It shields your property from damage and has a major impact on the appearance and value of your house and premises. 
Just like every other part of your property, your roof will eventually become damaged and require replacement or re-roofing in San Diego in order to remain useful. Knowing how to spot the 7 common signs of a faulty roof is vital in order to prevent additional damages. Read on to learn more. 
How do you know when it is time to re-roof your house?
First, we should point out that re-roofing is different from roof replacement. Re-roofing is the process of replacing or recovering an existing roof covering, while roof replacement includes removing the existing roof covering, repairing the substrate (if needed), and installing a brand new roof covering.
As with any other part of your house, you should occasionally examine your roof for signs of wear, damage, and other issues.
Here are 7 things you need to be on the lookout for when inspecting your roof:
Stains and streaks. Streaks and stains on the exterior or underside of your roof (or running down the walls from its base) are a telltale sign of a leaky roof.

Decaying shingles are a common occurrence with shingle roofs. If some of your shingles are decayed, cracked, missing, out of place, or curled, you'll need to have your roof fixed immediately to prevent further damages.

Saggy areas in the roof structure can be a result of water damage. Use a broom or your hand to gently prod at the sagging spots. If they feel wet or soft to the touch, that indicates moisture damage.

Daylight shining in through the roof boards. If you can see streams of light coming in through the holes or cracks in the roof when you go to the attic, that's a sure sign the roof is leaking and needs to be repaired.

Obvious leaks and water damage such as puddles on the attic floor, rotting wood, and musty odors. Even if they currently seem minor, these types of damage will inevitably get worse so it's best to address them ASAP.

The gutter is full of shingle granules. If your shingles are falling to pieces and ending up in the gutter, your roof is likely at risk of even greater water damage and decay. 

Algae and moss aren't a cause for immediate concern, as they won't actually damage your roof or other parts of your house. However, they can be a huge eyesore and may even reduce the value of your property. 
How long does a re-roof take?
It's impossible to say for sure. Size of the roof, materials used, weather conditions, available equipment, existing damages, and the expertise of the people doing the re-roofing are all factors that can affect how long the job takes, so make sure to prepare accordingly. 
On average, it takes 2-3 days to reshingle the roof on a typical American house that has an area of 1600-1700 square feet. A roof that's twice that size will generally take more than a week to re-roof.  
Where can I book a first-rate re-roofing in San Diego?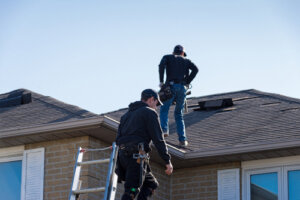 Have you noticed dark stains on the ceiling and other signs of a leaky roof at your San Diego property? Or perhaps you've recently bought a house in Webster and you want to have its roof replaced with a modern alternative? 
Whatever your roof-related needs may be, you can't go wrong by giving 619 Roofing a call. We offer the full range of roofing services, including re-roofs, tear-off, maintenance, gutters, emergency roofing services, and more. Get in touch with us today.