For most Americans, the cost of repairing or replacing a roof isn't something they can easily afford. Luckily, by periodically setting aside a few hours to perform scheduled roof maintenance in San Diego, you can spot most roof problems and address them before they can seriously impact both your home and your wallet. 
In order to help you keep your property in great condition all year round, we have prepared a list of 7 time-tested tips that will help you ensure your roof stays clean and healthy. Keep reading to learn more. 
How do you maintain a roof?
Good roof maintenance requires regular inspections. Seasonal or annual checkups will significantly prolong the life of your roofing materials, as well as prevent leaks that can damage not just your roof, but the other parts of your house as well.
Here are 7 tried-and-true roof maintenance tips:
1. A drone is extremely useful
If you own a drone or are able to borrow one, you can use it to inspect every inch of your roof from the comfort of your backyard. This is not only convenient, but also much safer than climbing onto the roof yourself. Just make sure not to fly the drone in rough weather! 
2. Keep a close eye on the shingles
Any damaged or missing shingles and roof sealant should be replaced or fixed as soon as possible. Giving your shingles a good cleaning is highly effective when it comes to preventing moss, algae, lichen, or fungal growths that can compromise the integrity of your roof. 
3. Take care of ice dams
Ice dams can seriously damage your roof and lead to intensive and costly repairs. By properly insulating your house and roof so that your roof stays at the same temperature as the outdoor environment, you'll be preventing snow from melting and turning into ice dams on the colder areas of your roof. 
4. Don't forget to replace sealant
Examine every part of the roof where there is sealant. If you find signs of wear or cracking, remove the old sealant from the affected areas completely and reseal them with a new sealant.
5. Check for signs of rust
Are there any metallic components in your roof? If so, these parts need to be examined regularly to make sure they haven't started to rust or corrode. If you do find rust spots, you should use a wire-brush to remove the rust, and then prime and paint the problematic areas. 
6. Clogged gutters can be a major problem
If water is allowed to accumulate inside the gutters, it can easily seep into your roofing structure and severely damage your roof. By regularly maintaining and cleaning your gutters, you'll be both keeping both them and the rest of your roof in good condition.
7. Keep the overhanging branches in line
You should trim any branches that are hanging directly over your roof or very close to it. Not only is there a risk that the branches could break off and fall on your roof, the leaves falling from them and collecting on your roof may cause your tiles to rot and even damage the whole roofing structure. 
Who should I call when I need top-notch roof maintenance in San Diego?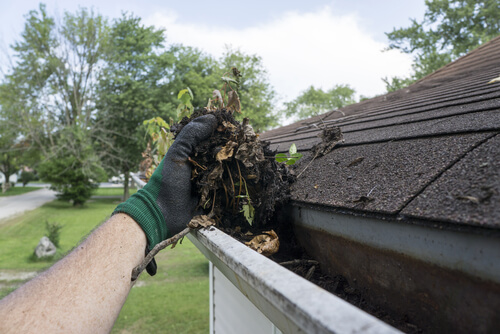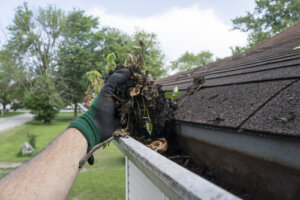 Just as you wouldn't hire an inexperienced pool contractor to build your inground pool or a "budget" painter to paint your house, you should never cut corners when it comes to ensuring the continued health of your roof.
That's where 619 Roofing comes in. Whether you're looking for a team of expert roofers who can replace the roof at your Shelter Island property, or you just want to have your roof checked for signs of damage, you can't go wrong by giving the top San Diego roofers a call today.