A re-roof in San Diego, CA, is a major construction project that involves recovering or replacement of an existing roof covering in order to fix a roof that is in poor condition. When performed on an average-sized residential property (1600-1700 square feet), it takes 2 or 3 days to complete. 
As with other construction projects, properly preparing yourself for a re-roofing is key in order to avoid unnecessary delays and make sure everything goes smoothly. Keep reading to learn how to get your house or premises ready for a re-roofing service. 
How to prepare for roof replacement?
It's worth pointing out that roof replacement is not the same as re-roofing. As its name implies, roof replacement includes the removal of the current roof covering and the installation of a brand new one. Furthermore, it may also include substrate repairs if these are needed. 
If you've discovered some damage, but you're not sure whether it means your roof should be re-roofed or replaced, your best course of action is to contact a reputable roofing contractor and have them perform an inspection. 
Either way, when it comes to getting everything ready, it doesn't really matter whether you're re-roofing or replacing your roof. The same principles apply in both cases.  
Here are 5 tips to get your property ready for a re-roofing:
1. Prepare your family and pets
Roofing project sites are full of dangerous tools and materials. To prevent injury and interference, children and pets shouldn't be allowed to go to the attic or anywhere near the roof while the work takes place. 
Since roofing projects can be extremely noisy, it may be a good idea to move your pets and loved ones elsewhere for the duration of the work. 
2. Mark fragile landscaping features
Good roofers will do their best to avoid damaging ornamentation, sprinkler heads, and other landscape pieces in your yard. Still, it's a good idea to clearly mark these pieces before the contractors arrive using small flags, colorful pieces of paper, or similar highly-visible items. 
3. You'll have to do some cleaning
Dependable roofing contractors use tarps and other protective measures to keep roofing nails and other items from ending up on your driveway or lawn. However, there's still a chance some of these odds and ends will "slip through the cracks", so don't forget to perform your own cleanup afterward. 
4. Protect your property
A typical re-roofing begins in the attic and, like most construction projects, includes a lot of noise, dust, and vibrations. If you keep any fragile items or hanging decor in the attic, it's highly advised that you move them elsewhere or at least cover them up. 
5. Keep accessibility in mind
You need to make it as easy as possible for the roofing contractors to access your roof. Any cars, trash cans, lawn mowers, toys, debris, and other items should be moved out of the way. Not only will this make it easier for the roofers to move heavy supplies and equipment, it'll also reduce the risk of accidents that may occur as a result of insufficient accessibility. 
Where can I schedule a reliable re-roof service in San Diego, CA?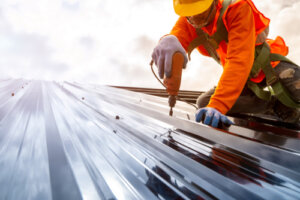 Have you recently found some signs of roof damage on your Lincoln Park property? Or maybe you're planning to sell your old home in San Diego and you want to fix its roof before listing it on the real estate market? 
Here at 619 Roofing, roof and gutter repair, maintenance, installation, and tear-off are our specialty. We can even help you if you have a sudden roof malfunction in the middle of the night: our emergency hotline is available around-the-clock, all year long! 
Reach out to us and get your quote today.