If you are considering listing your home in the future, you need to plan ahead and get proactive. Regardless of its size, exact location or even its condition, you need to do your best to try and make the most of all the years of maintenance and investment in your San Diego property. And to do that, you need to make sure that the roof, which is one of the essential elements of your property, is fulfilling its purpose and looking strong and healthy.
Roofing issues can be downright dangerous to ignore. Most homeowners are aware of the fact that they need to handle any roofing issue as a matter of urgency. And for homeowners with asphalt roof shingles that have started to deteriorate, re-roofs in San Diego represent a popular alternative to comprehensive roof replacement done from scratch. But how likely is a reroof or even a roof replacement to boost the value of your property?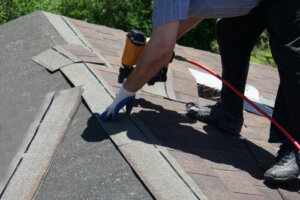 Will a new roof increase appraisal value?
A new roof can certainly increase your property's appraisal value, but unless there is extensive damage to tackle, you may be better off by going for a quicker and more affordable alternative: a reroof. Reroofs or roof overlays offer various benefits:
 Financial savings

 Boost of aesthetic and curb appeal

 Low-maintenance requirements
A professionally performed roof replacement is a longer-lasting roofing solution, but one that comes with a heftier price tag and a longer timeframe.
Depending on the quality of the roofing material and the standard of workmanship, you can expect a high return on investment for your roof upgrade. Just how much of an ROI you can expect depends on several factors:
 Type of roofing project (minor roof repairs vs. reroofs and tear-offs)

 The condition of the roof (age and extent of damage)

 The market conditions in the area (regional market specificities)
Always consult a trusted realtor beforehand on the right course of action.
Can a roof be repaired instead of replaced?
A roofing contractor would have to inspect your roof thoroughly to decide if your roofing situation can be brought under control with a roof repair. If not, you may need to invest in a roof replacement, in which case you will have two options, depending on the type of your roof and the nature of the issue.
Namely, if you have an asphalt shingle roof that has never undergone repairs in the past, you can opt for a reroof, which is a time-saving, affordable solution: a layer of new shingles is placed on top of the roof without removing the previous ones.
In all other cases, you will only have the option of replacing the roof, partially or in full, depending on the cause and scope of damage.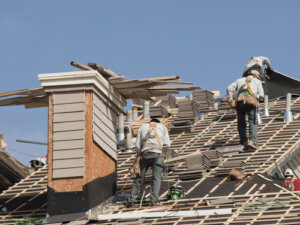 Is it better to repair or replace a roof?
The optimal solution for your roof depends on your budget, timeframe and intended purpose.
From the financial perspective, a roof repair makes more sense in the short term, being less complex and less demanding than a roof replacement. As a result, it takes less time and money to complete.
But a roof replacement is far better if you want to secure a durable roofing solution that will last for decades on end. If you are focused on raising the curb value of your property without spending a outrageous amount of money, an overlay, which may last up to 15 years with proper maintenance, may be your safest option, unless there has been extensive roof damage which requires a full replacement. 
What color roof is best for resale?
While the functionality and performance of the roof is what counts the most, you must not overlook the importance of the roof color. When choosing the color of your new shingles, choose a color that is carefully coordinated with the siding and shutters. The color should be dissimilar from that of the siding, as contrast helps create an interesting, visually appealing look. Match asphalt shingles in solid colors with color-blended siding, and vice versa. 
Darker colors are more eye-catching than light ones are, but light ones are better for single-story homes, so bear that in mind when picking your shingles. Asphalt shingles can also be made using specially coated granules for enhanced solar reflectance.
As for a quick-fix to spruce up the roof, such as repainting asphalt shingles, bear in mind that experts recommend against it: the shingles' direct exposure to the elements makes them more prone to visible damage and granule loss. You would need to apply a fresh coat of paint to the shingles periodically, which is demanding, daunting and potentially dangerous.
Raise your curb value with tailor-made re-roofs in San Diego
The roof on your property is one of the first things people are bound to notice. It is also one of the worst things to neglect, yet here at 619 Roofing, we see it all the time. That is why we bring you the opportunity to raise the value of your home through effective roofing solutions which will not let your expectations down, whether you decide to list your property in Barrio Logan or keep it and enjoy it for many happy years to come. Get in touch with us today and leave the heavy lifting to us!