If your old roof is no longer serving its purpose, if the damage to it is impossible to ignore any longer and you want to spare yourself the inconvenience of urgent repairs and outrageous costs, then you have only one viable option: scheduling a consultation with a top-rated roof repair service in San Diego. 
But before that, you'll need to understand what your roofing material options are so you can weigh these options carefully and make a wise decision in the long run. If you base your decision on aesthetic appeal or price alone, you may find yourself regretting it down the line. If, on the other hand, you make a wise decision and pick a durable roofing material that looks neat to boot, you can drastically enhance the curb appeal and value of your property, as well as spare yourself costs and headaches down the line.
So what roofing materials have the longevity factor going for them and offer the best benefit-to-cost ratio?
How many years does a roof last?
You want your roof to be the ideal combination of style and functionality. But you also need your roof to last and be a worthwhile investment going forward. Shingle roofs can last up to 50 years, especially if you opt for shingles from the industry's most reputable manufacturers such as Owens Corning offering high-end warranties. 
If you want to have the option to reroof your home and keep the old roof underneath, opt for asphalt shingles. Otherwise, you will need to remove your old roof and replace it with a new one in case of extensive damage.
How long does a 30 year roof really last?
This question seems odd to say the least, but here's the deal: you never really get what they say on the box unless you put effort into it. Namely, a 30-year roof will likely last about 25 years if you take good care of it, otherwise it may last as little as 12 to 15 years. In other words, neglect equals money down the drain.
What roofing material lasts the longest?
The roofing technology has come a long way since the early days of residential construction, which is why we know have numerous lasting roofing material options to choose from:
Slate roof (over a 100 years)

Clay or cement tile roof (up to a 100 years)

Standing seam metal roof (30-50 years)

Wood shake shingle roof (35-40 years)

Wood shingle roof (25-30 years)

Composite asphalt shingle roof (15-40 years)

Layered Built-Up Roofing (20-30 years)
Composite asphalt shingles remain a top choice because they can last between 15 and 40 years, depending on the material quality and your care and maintenance routine, which essentially boils down to keeping debris and moss off the shingles. For the majority of homeowners across North America, these standard 3-tab roofing shingles are the most cost-effective roofing solution.
Put your mind at ease with #1 roof repair service in San Diego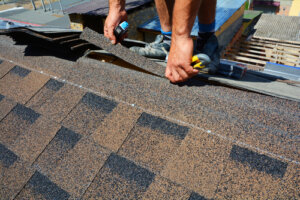 When you live in Downtown San Diego or any other community throughout the San Diego City or County, you are blessed with sunny weather throughout the year. And that's great news for your roof and your wallet. Still, inconveniences such as minor or major roof damage tend to happen and roof repair is not exactly a minor home improvement project that you want to embark on without taking the time to prepare.
At 619 Roofing, we strive to give our customers competitively priced roofing solutions that will give them peace of mind for years and years to come. Reach out to us today to find out more about the best options for your roof!