We seldom think about what it really means to have a roof over one's head until we no longer have it. And the same is true if we take the expression literally. We hardly notice the roof until its structural performance becomes compromised and its damage visible. 
By that time, the process of its aging, wear-and-tear and deterioration will probably have been in progress for years and years. When it comes to the roof and roof repair in San Diego, there's a major payback to being proactive. For one thing, a failing roof can be the beginning of a series of other issues detrimental to your property and belongings, your safety and protection and last but not least, your wallet.
So how do you recognize the earliest signs of roof damage and prevent it from escalating and getting out of hand?
How do I spot roof damage early on?
Roof damage comes in all shapes and sizes, and it's surprisingly easy to overlook. Although we are blessed with year-round mild weather conditions here in sunny San Diego, roof damage can easily creep up on you.
The safest and most reliable way to determine whether your roof has suffered damage is to schedule an inspection of your roof at regular intervals. Ideally, you should have your roof inspected by certified professionals on an annual basis. Even if your roof is brand new, the longest it can go without an inspection is 5 years from the year of installation.
Still, you can do spot-checks several times a year by yourself. There are certain silent and fairly easily recognizable signs that your roof is nowhere near as healthy and strong as you thought it was:
Damaged plumbing vent boots

Roof vent issues

Dirty or clogged soffit vents

Visible shingle damage or loss of granules

Dark streaks on the shingles

Sheathing decay

Damaged or loose step or kick-out flashing, including rusted chimney flashing

Blistering or peeling paint

Attic leaks

Missing gutter apron

Rusty spots on gutters

Mold growth on exterior walls 

Mold growth between sidewalls and roof edge

Stains on the interior walls or ceiling

Stains around the bath fan
Of course, to be able to detect these early signs of roof damage by yourself, you may need to climb onto the roof, which you may not be comfortable doing for safety reasons. If that is the case, have professionals come in and do it for you. Safety first!
How do you know when the roof needs replacing?
When it comes to roof damage, roof replacement may be a better option than roof repair, albeit a more expensive one. Whether you are considering purchasing a home or looking to invest in the roof on your current one, there is a series of potential warning signs to be on the lookout for:
Curled shingle edges

Cracked shingles

Heavy granule loss

Bald spots

Large patches covered in moss or algae growth
All of these can tip you off that repair is no longer an option, or at least not a viable one if you are looking for a long-term roofing solution. Even if you are not entirely sure you can recognize any of these, if your roof is over 20 years old and looks old and worn even from the ground or from a distance, it may be a disaster waiting to happen. If so, you should have professionals come in s soon as possible to give you their professional opinion.
Prompt roof repair in San Diego: good for your roof & your budget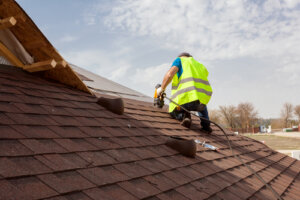 It's not too difficult to tell that your roof has been severely damaged at an advanced stage, hopefully before the neglect leads to someone suffering a serious injury. But the trick is to be vigilant and schedule a professional inspection at the first sign of damage. 
This is a simple way to make the roof last considerably longer without a comprehensive reroofing or roof replacement project, while saving tons of money and sparing yourself unnecessary stress. Our roofing experts are professionals in their field and certified by the industry's leading manufacturers such as GAF and Owens Corning. Call 619 Roofing to schedule your initial appointment and get your honest recommendation!