If your roof is bad, you have to weigh your options carefully and consult professionals in order to make a sound forward-thinking decision, but do it fast if you want to protect your property. If your existing roof is completely beyond repair or too complicated to fix, and re-roofing your home is not possible, you are left with the ultimate solution that will safeguard you from further damage and give you peace of mind for decades to come: replace the roof on your home. 
If you are considering a full or partial roof replacement in San Diego, you will need to have a complete and thorough understanding of the whole roof replacement process. You probably already know the main thing: roof replacement is usually a sound investment of time, money and other resources, but it gives you a reliable roofing solution that may last you a lifetime. 
But to get more helpful information, check out our roof replacement guide.
Can a roof be replaced in sections?
Homeowners preparing for roof replacement projects often wonder if they absolutely need to replace the whole roof, or if they can replace just one or several roof sections and save time and money at the same time. 
Whether or not this can be done in the first place and whether or not this is advisable depends on the extent of your roof damage or deterioration, as well as on the age of your roof. Sometimes all it takes is to have a few roof shingles replaced and voilà, you will have restored the function and beauty of your roof and property.
When do I need to replace the whole roof?
Sometimes there is visible roof damage and wear-and-tear on just one section of the roof, yet your roofing contractor recommends replacing the whole thing instead. You may assume they are trying to trick you into agreeing to a costly project that is basically unnecessary, let alone urgent, but consider this: 
How old is your roof? If your roof is over 15 years old and exposed to detrimental factors such as extreme heat and sunlight, a common occurrence in

sunny San Diego

, threatening to further shorten its lifespan, you should probably agree to have the whole roof replaced at once, as this may help you avoid additional costs and complications down the line.

There may be damage under the shingles. In case of extensive damage under the shingles, replacing the whole roof will give you better value and minimize the risk of the problem escalating going forward.

Finding replacement shingles that will match the old ones in type or size may be difficult or impossible.
Should the old roof be removed?
As we mentioned above, whether or not your old roof has to go depends on its condition and whether it should be replaced in its entirety or in sections. The old roof will need to be removed in its entirety if you want or need to have the whole roof replaced, such as if it's reached the end of its lifespan and there is extensive damage that would be too complicated or costly to repair. If not, it is possible to replace just a section with the brand new roof and leave the rest of the old one as-is.
What is included in roof replacement?
Here is the process of roof replacement, often referred to as roof tear-off:
Tearing off shingles

Shingle replacement (this may require decking and underlayment inspection, repair or replacement, new flashing installation, and additional steps)

Clean-up 

Roof inspection
Your trusted partner for all things roofing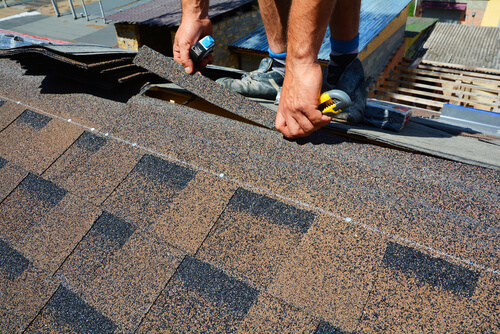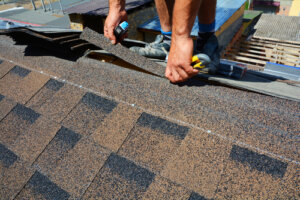 619 Roofing is the go-to company for tear-offs and roof replacement in San Diego, Riverside and Orange Counties. We also handle requests for re-roofs, roof repairs, roof maintenance and gutter cleaning from commercial and residential property owners, as well as HOAs. You can rely on us for honest professional recommendations, competitive pricing, as well as quality workmanship and materials. All our services come with a satisfaction guarantee. Call today and let us know how we can help restore the value of your property, the health of your roof and your own peace of mind.