Reroof a house in San Diego, go for a full roof replacement or opt for something in between? If your roof is bad, you need to consult knowledgeable roofing contractors and determine what to do about it. Your home may be your castle, but what good is a castle without a healthy roof?
So is it time for you to reroof your home or replace your roof? Both these options come with their own set of advantages. 
But you need to answer a few questions first. For instance, is reroofing even an option in your case? And if you do need a roof replacement, should it be done in sections or in its entirety? Under what circumstances would roofing contractors recommend a reroof instead of roof replacement?  
To get answers, let's consult experts in the field.
What is the difference between reroof and a new roof?
The main distinction between a reroof and a new roof installation is that reroofing means you are covering the existing roof or part of it. A new roof installation, on the other hand, means there is either no roof to begin with or you are replacing the existing one, usually as a result of some sort of damage.
Reroofing is also faster and less expensive, as it does not involve tear-off. However, re-roofing is not an option if it was done once before and there are now two layers of shingles on the roof already, as it puts too much weight on the roof structure and the building itself.
Is it OK to put a new roof over an old one?
It may be possible to lay a new roof over the old one, but only if the following applies:
A reroof is a viable option only if you have asphalt

roof shingles

(sometimes referred to as composition shingles).

It is possible to reroof your property once: if there are two layers of shingles on your roof, you will need to opt for a roof replacement, partially or in full.

Reroofing may not be a long-term solution, although this depends mainly on the extent and severity of the damage underneath the shingles.
How do you reroof a house?
Reroofing is the process of layering a new set of shingles over an existing layer, which means there is no tear-off. Reroofing can only be done once in the life of a roof, as the roof cannot handle more than two layers of shingles. More than that, and you run  the risk of putting too much weight on the building. 
Reroofing is a favorable option if you are strapped for time or money, as it usually costs much less and takes less time to complete than replacing the roof. If you are considering a reroof, make sure to hire professional roofing contractors who can perform a thorough job and follow-up inspection.
When should you reroof?
Reroofing is a smart investment if your roof is already close to reaching the end of its lifespan and you plan on having it replaced at some point in the future, but not right now. Of course, you should consult a roofing professional beforehand, as the actual damage underneath your old shingles may further escalate and compromise the safety of your roof and building. If the roof structure underneath is sagging or rotting, it is better to opt for a roof replacement instead.
How long does a reroof last?
A reroof is typically a quick fix, recommended for roofs that are already nearing the end of their lifespan. The project itself takes considerably less than a roof replacement which involves the time-consuming process of tearing off old shingles.
We strive to maximize your satisfaction & return on investment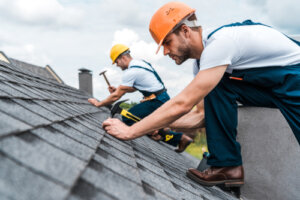 Have you noticed the early signs of roof damage? Or has it deteriorated beyond recognition? As a longstanding San Diego-based roofing company serving the entire San Diego County, OC and Riverside County, we understand that you are facing a serious dilemma: should you reroof your house in San Diego or replace the roof? We can help you work out the optimal solution, one that will secure a long life span of your roof and reach a rational financial decision at the same time. We will inspect the roof on your property to help you understand your options and make an informed decision, and to HOAs we even offer financing programs. Call now!